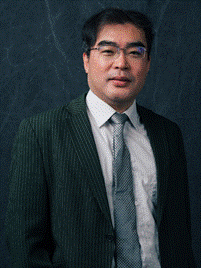 Prof. Ying-Dar Lin
Title: Federating cloud, edge, and fog systems with 3rd-party authentication: 24 combinations and beyond
Bio:
Ying-Dar Lin is a Chair Professor of computer science at National Chiao Tung University (NCTU), Taiwan. He received his Ph.D. in computer science from the University of California at Los Angeles (UCLA) in 1993. He was a visiting scholar at Cisco Systems in San Jose during 2007–2008, CEO at Telecom Technology Center, Taiwan, during 2010-2011, and Vice President of National Applied Research Labs (NARLabs), Taiwan, during 2017-2018. He cofounded L7 Networks Inc. in 2002, later acquired by D-Link Corp. He also founded and directed Network Benchmarking Lab (NBL) from 2002, which reviewed network products with real traffic and automated tools, also an approved test lab of the Open Networking Foundation (ONF), and spun off O'Prueba Inc. in 2018. His research interests include machine learning for network security, wireless communications, network softwarization, mobile edge computing, and machine learning to communications and cybersecurity. His work on multi-hop cellular was the first along this line, and has been cited over 1000 times and standardized into IEEE 802.11s, IEEE 802.15.5, IEEE 802.16j, and 3GPP LTE-Advanced. He is an IEEE Fellow (class of 2013), IEEE Distinguished Lecturer (2014–2017), ONF Research Associate (2014-2018), and received K. T. Li Breakthrough Award in 2017 and Research Excellence Award in 2017 and 2020. He has served or is serving on the editorial boards of many IEEE journals and magazines, including Editor-in-Chief of IEEE Communications Surveys and Tutorials (COMST) with impact factor increased from 9.22 to 29.83 during his term (2017-2020). He published a textbook, Computer Networks: An Open Source Approach, with Ren-Hung Hwang and Fred Baker (McGraw-Hill, 2011).
Abstract:
Cloud, edge, and fog computing paradigms provide computing and storage services. However, one computing paradigm cannot fulfil all requirements in latency, throughput, and coverage. Thus, there is a need of "federation" among these paradigms, which is beneficial to both subscribers and service providers. Subscribers could get one-account-service-anywhere. Providers could lease capacity from each other. Such a federation gives rise to many new opportunities and challenges among which authentication, especially 3rd-party, is the most important one as these computing paradigms belong to different trust domains. A federation must allow subscribers (1st party) from one trust domain (2nd party) to authenticate themselves with another trust domain (3rd party) without having to create a new account. This gives rise to 24 federation combinations among the cloud, edge, and fog, and we boil them down to six major research problems. After an overview of our research roadmap on these problems, we present a proxy-based solution to the problems, including Cloud-to-Edge, Edge-to-Edge, 5G MEC, Cloud-to-Fog, Edge-to-Fog, and Fog-Fog. We then move beyond 24 possible combinations and present the concept of "universal proxy" that provides federated authentication among various protocols belonging to different computing paradigms. We implement solutions to these problems and present selected results collected on our testbed.
Prof. Jaideep Vaidya
Title: Ensuring Security and Privacy for Emerging Cloud and Edge Computing Environments
Bio:
Jaideep Vaidya is a Professor in the MSIS  Department at Rutgers University and the Director of the Rutgers Institute for Data Science, Learning, and Applications. He received the B.E. degree in Computer Engineering from the University of Mumbai, the M.S. and Ph.D. degree in Computer Science from Purdue University. His general area of research is in security, privacy, data mining, and data management. He has published over 170 technical papers in peer-reviewed journals and conference proceedings, and has received several best paper awards from the premier conferences in data mining, databases, digital government, security, and informatics. He is an IEEE Fellow, ACM Distinguished Scientist, and is the Editor-in-Chief of the IEEE Transactions on Dependable and Secure Computing.
Abstract:
The emerging 5G infrastructure has enabled development of next generation internet-centered distributed applications that are driven primarily by quality of service considerations. Such Internet-centered distributed applications may include streaming applications, distributed workflows, and web service mashups. Since these applications are architected and developed using resources and services that may belong to different organizational domains, access to the underlying resources and services is governed by the security and privacy policies of the respective resource owner domains. Quality of service is a critical parameter even when designing and enforcing security and privacy mechanisms for such applications. In this talk, we present some of the key challenges in developing light weight solutions for security and privacy specification, management, and enforcement in the cloud/edge computing environment. We also discuss a blockchain based solution for security policy enforcement, and then discuss potential avenues for future work in this area.